Uh oh! You better watch out! Our friendly sponge who lives in a pineapple under the sea has been outed as Gay.
Of course, I heard that Spongebob was gay in the past, when I heard the news that he was popular with gay men.
Let's think about it. Pineapples are Big and Juicy. They're HARD. And oblong. SpongeBob lives in a pineapple! That's practically saying that he LIVES in a PENIS!
Speaking of penis…have you seen his friend Patrick?
Nothing says "weiner" than a big, pink starfish. And we all know that "chocolate starfish" is the term for poohole. And what is the preferred hole for gay men?
You know.
Is it me, or does he look like he wants to fist someone? And that red tie? Hello! Red is close to pink! Pink is GAY! GAY!
So, parents, learn this lesson. Do not teach your children about tolerance, about loving others who are different than you. Teach them to be manly and have manly heros, such as the Terminator.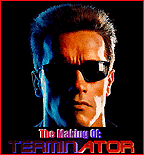 Your child may not learn how to love other people, but he'll sure learn how to kick asson the playground.